Syracuse came to town this weekend, the first Admirals games in forever, man. After this set, the Ads look like the team we got last year.
Instead of giving you the normal two-game breakdown, I am going to give you some backstory. You're probably familiar with it. In 2011-12, the Admirals ran off 28 straight victories and won the franchise's first Calder Cup. The team was under the umbrella of the Tampa Bay Lightning, and had finally brought winning hockey back to Norfolk. The problem? It was the last year of Tampa's affiliation deal with the Ads.
Most franchises would love that kind of success at the minor league level combined with a thriving minor-league fanbase in a "non-traditional" market. Unfortunately, most of the Admirals' success came after the AHL All-Star game. During this event, Tampa Assistant GM Julien Brisebois struck up some conversations with Syracuse Crunch officials. I think it was owner Howard Dolgon.  Syracuse was in the last year of their deal with the Anaheim Ducks. It wasn't going well for either side. Wanting to "eliminate travel costs" or something ridiculous, a handshake deal was accomplished and the Crunch would now be a Tampa team with Anaheim coming to Norfolk.
After the big parade and the world's most backhanded THANK YOU FANS WE'LL NEVER FORGET YOU ad from the Bolts from the Pilot, the affiliation deal was announced. Minor league affiliates change all the time. Norfolk switched from Fort Wayne to Utah in the ECHL. Yet, nothing was as blatantly a lie as this. Tampa saw a way to reconstitute a team in their own image.
Gone were the Syracuse Crunch orange and purple colors and in came a blue and white Tampa theme with lightning bolt pants.  I guess it wasn't thematically appropriate to call them the Syracuse Lightning.  They came to town before the lockout with all the old players. Fans who didn't realize Norfolk had no say in Tampa leaving cheered for the Crunch on their return back. It was awkward. All those guys are gone for the most part.
Most of the former Admirals who are on the Crunch now are career AHLers like Mike Angelidis and JP Cote. The superstar youngsters either got traded or promoted to Tampa. Some took to calling these younger players "Tampacuse" which reads like a complete disregard for everything they accomplished in Norfolk. When the Crunch come to town, it's still weird.
This year's Syracuse team has a ridiculous amount of talent, lead by gifted youngsters Nikita Kucherov, Vladimir Namestikov, Nikita Nestorov, and JT Brown. Goaltending is generally a wash with Riku Helenius and Cedric Desjardins. What does this year's Norfolk team have? Well, it depends on the week. This week they had Peter Holland, Max Friberg, Steven Whitney. and John Gibson.
Game in and game out, Gibson has been the best player for the Admirals. Each contest, they go out and make him win the game. It shouldn't be that way. On Friday, they kind of tried. After a major penalty and game misconduct to NEW CAPTAIN Garnet "X-Man" Exelby, the Ads did a fairly good job of keeping the game tight. No bounces went their way, which sucks. No points for the Ads.
Saturday? The team decided to just quit, I guess. Nothing good came of it. Desjardins, who has been no great shakes for the Crunch, wasn't tested. He walked away with a shutout. The Admirals? John Gibson's heroics fell short and he let in 4 goals on 27 shots, one of those a power-play try.
The Admirals desperately miss the firepower of players like Rickard Rakell and Devante Smith-Pelly and Sami Vatanen. As great as Gibson is, having Frederik Andersen back in the fold would allow the rookie netminder to have some days off. You know who's playing in front of Gibson right now?
Guys like Antoine Laganiere, who is like a giraffe on his hind legs on skates. At one point, I got in to a conversation with Shawn from Ads Aftermath on twitter about how well a giraffe might play for the team. Introducing a new game:
COULD A GIRAFFE ON SKATES PLAY BETTER THAN A NORFOLK ADMIRAL
Tonight the Admirals gave up 3 goals in about three minutes. I'm not one for plus/minus because it fails to take into a lot of things. Thanks to the AHL for not publishing on-ice data like the NHL, we can't talk Corsi and Corsi qualcomp  and all those other fun things.  Brett Skinner, who had been scratched the past few games, was on the ice for two goals with two different d-pairings.  He gets the GIRAFFE OF THE GAME (image by twitter user @CrunchThis12)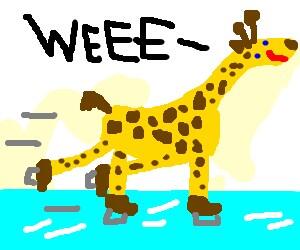 GIRAFFE OF THE GAME: BRETT SKINNER
Norfolk failed to garner any points for the first time in two games this year. They need to reverse this trend, maybe they'll get some ELC players back from the Ducks soon. Get well, Ducks.